In 2020, thanks to a covid pandemic, delivery to our door has become commonplace for just about everyone! But if you're familiar with Jewel Tea Co., you may not realize they started their door-to-door business in 1899.
Although many remember the Jewel Tea Co. which closed in 1981, few are probably aware of just how unique and entrepreneurial this company was. The following quote is a great example of how nimble and quick-thinking they were:
There were many tea companies at that time, and they all sold door-to-door, giving premium coupons with grocery purchases. When enough coupons had been saved, the customer had a choice of premium items offered. One day Mr. Ross knocked on the kitchen door of a prospective customer and had hardly stated his business when she grabbed a broom. He returned later that same day and learned that the lady had saved coupons for six months buying coffee and tea from a "wagon man" and had expected to get a rug with her coupons. However, the wagon man stopped coming around. Mr. Ross quickly offered her a premium to be left with her first order, to be paid out with a later trade.

This story varies from a broom to hot water, but the fast-thinking Mr. Ross with his idea of advancing the premium set the Jewel Tea Company apart from all other existing tea companies of the day.

from chicagology.com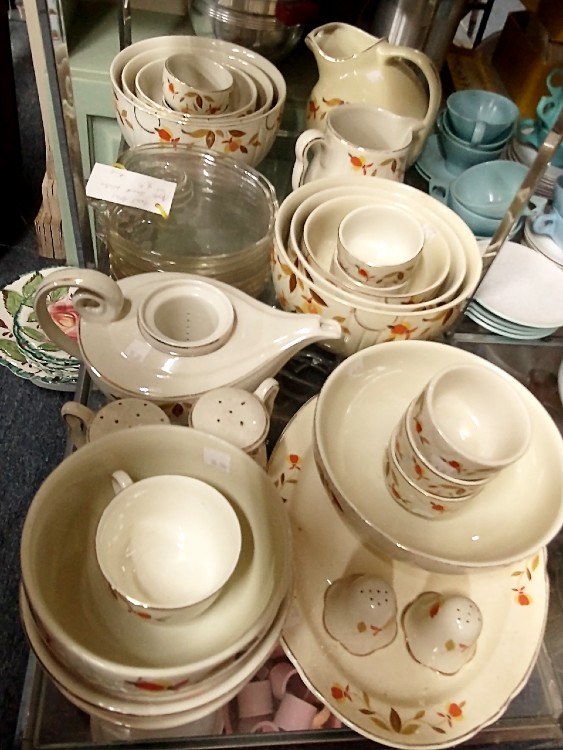 Many of the baby boomers today will recall these dishes from having had them in their homes growing up. They were premiums offered by Jewel Tea Co. and made by Hall China Company.
In the mid-1920s, the directors of Hall China made a decision to associate with the Jewel Tea Company to produce an exclusive line of dinnerware for them. Jewel started using Hall teapots as premiums, and then expanded the promotion to include its own line of distinctive dinnerware and kitchenware. New pieces were introduced by Hall China for Jewel until 1980.

from Wikipedia
Cameo Rose Pattern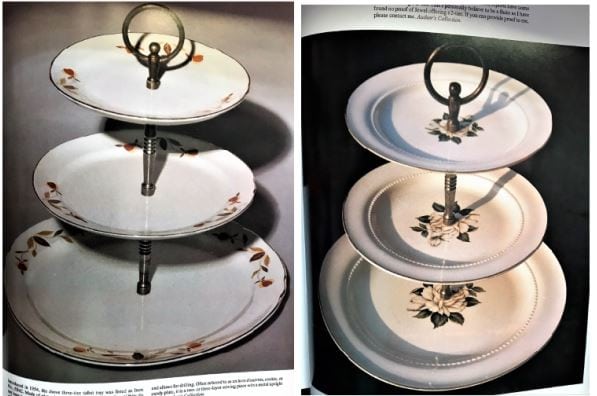 This image is from a tching.com post and shows both the Autumn Leaves and Cameo Rose designs.
Do you collect the Cameo Rose pattern?
There's much to be learned from earlier successful companies. And it's always fun to start a collection where you can share a bit of the 'story' that comes with them.
Drop by and chat with us, browse our 9,000 sq. ft. of collections. We'll be watchin' for ya!