These two antique pieces arrived recently. We're excited to share them with you.
Civil War Naval Cutlass
First, let's share a little background regarding this Naval Cutlass:
First cousin to the longer, lighter cavalry saber, the naval cutlass was designed for sea-fighting as the saber was adapted to land-battles. Because boarding actions were fought on the crowded decks of small vessels amid tangles of shrouds and splintered spars and struggling shipmates and foemen, Jack Tar's blade had to be short for easy control, and heavy enough to provide its own momentum in slashing. (Unlike the cavalry trooper's trusty saber, Jack's cutlass did not have the weight of a galloping horse behind it!) The cutlass had a straight or slightly-curved blade designed both for cutting and thrusting. A large, enclosed guard shielded the swordsman's hand.

from website History.naval.mil
Are you wondering just who "Jack Tar" might be? Here's a bit of info:
Jack Tar (also Jacktar, Jack-tar or Tar) is a common English term originally used to refer to seamen of the Merchant or Royal Navy, particularly during the period of the British Empire. By World War I the term was used as a nickname for those in the U.S. Navy. Members of the public and seafarers alike made use of the name in identifying those who went to sea. It was not used as a pejorative and sailors were happy to use the term to label themselves.

from Wikipedia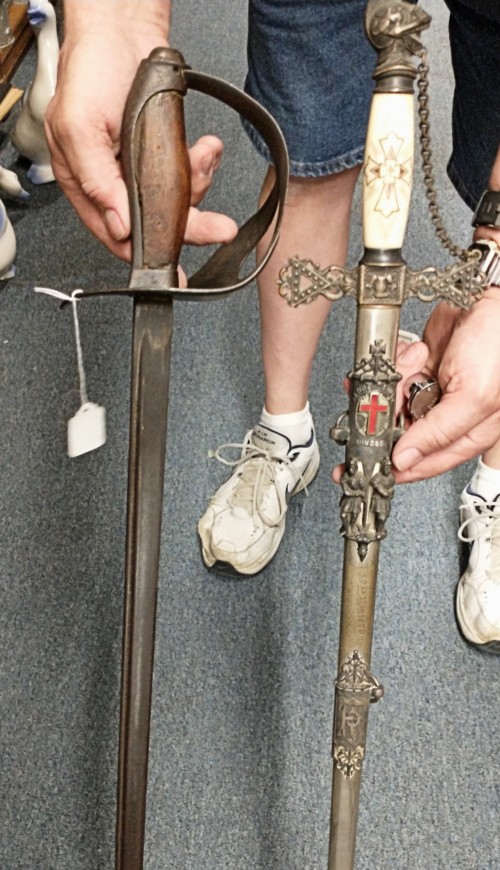 There's an interesting link from this cutlass to Havre de Grace via Commodore John Rodgers.
In 1808, Commodore John Rodgers of the Brooklyn Navy Yard awarded Nathan Starr a contract for 2,000 cutlasses at $2.50 each. This weapon was 35 ¼ inches long with a single-edged, straight blade. The guard was made of iron, beaten to concavity and lacquered black. The grip was a maple cylinder protected from splitting by two metal rings (ferrules) clamped around the handle near its upper and lower ends. In the hands of New England seamen, these cutlasses felled scores of Britons during bloody boarding actions in the War of 1812, including the capture by HMS Shannonof James Lawrence's Chesapeake in 1813, and Wasp's victory over HMS Reindeer in 1814, one of the fiercest cutlass-fights in the annals of the sea.

from History.Naval.Mil
Rodgers Tavern (where Abbey's Burger will open later this month) is connected to the Rodgers Family and their history with Havre de Grace. Here's a tribute to Commodore Rodgers from Missouri Senator Thomas Hart Benton:
When I first saw Commodore Rodgers, which was after I had reached senatorial age and station, he recalled to me the idea of those modern admirals, and subsequent acquaintance confirmed the impression then made.
He was to me the complete impersonation of my idea of the perfect naval commander; person, mind and manners with the qualities of command grafted on the groundwork of a good citizen and good father of a family and all lodged in a frame to bespeak the seaman and officer. His very figure and face were those of the naval hero such as we conceive from naval songs and ballads and from the course of life which the sea officer leads exposed to the double peril of waves and war, contending with the storms of the elements as well as with the storm of battle. We associate the idea of bodily power with such a life, and when we find them united the heroic qualities in a frame of powerful muscular development, we experience a grateful feeling of completeness which fulfils a natural expectation and leaves nothing to be desired.

from War of 1812 Archaeology
Now you can see how easily you can get pulled into learning a bit of history while at the same time having fun!
Knights Templar Ceremonial Sword
There is a great deal of folklore and conspiracy theory when you speak of the Knights Templar of the Middle Ages. For an interesting read, consider this article – 10 Thinks You Never Knew About The Knights Templar by Dan Jones in the British Edition of GQ Magazine.
The sword with its scabbard is probably early 1900s. George is still researching it.
Here's another photos of these two awesome antique pieces: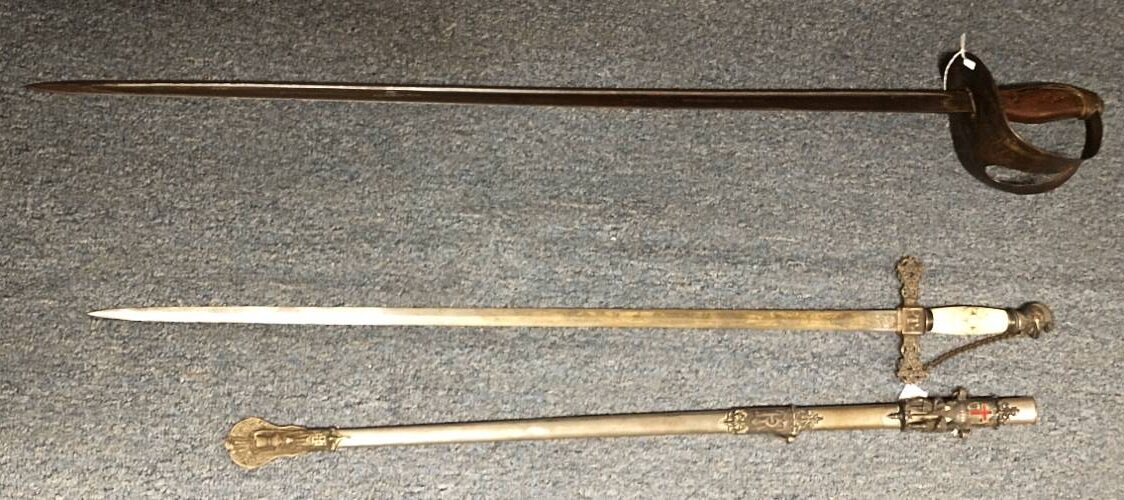 We look forward to having you drop by and view these two pieces of history. Remember, George is the "Collector of Collections." We'll be watchin' for ya to stop by so we can help you find your favorites!