These days, people of means tend to dismiss canned or "processed" food as something people without access to fresh food eat. But in the late 1800s, food in tins was highly desirable. It was considered much more sanitary, and therefore healthier, than food offered in bins or barrels. That's when branding became particularly important; customers learned they could expect a certain level of quality from, say, Kellogg's.

from Collectors Weekly
We find it interesting that history really does come full circle. Folks again find fresh food in bins and barrels – especially if organic – to be preferable to canned or frozen. Ah yes, the circle of life.
We wrote about this a couple of years ago. But we still have a wonderful variety of vintage and collectible tins. Whether you like the advertising on them, or just old tins, we probably have a couple you'd like to add to your decor or collection.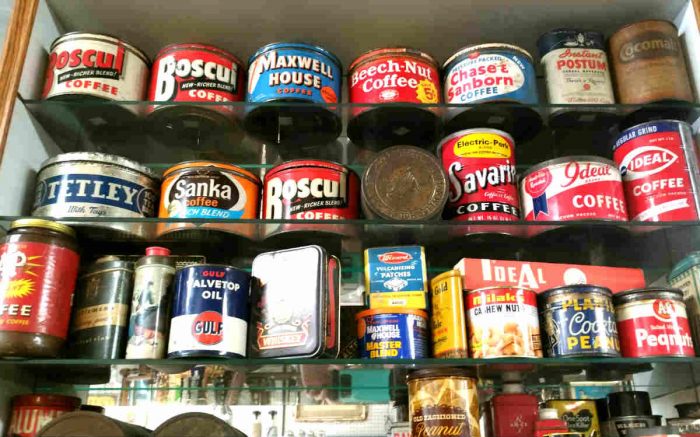 Yes, you'll notice a few others that are NOT food tins (like the Gulf oil tin). Stop by and say 'hi' while you browse the shop. Yessireeee… we'll be watchin' for ya!