Do you know the history behind the plastic pink flamingo?
First designed in 1957, the fake birds are natives not of Florida but of Leominster, Massachusetts, which bills itself as the Plastics Capital of the World. At a nearby art school, sculptor Don Featherstone was hired by the plastics company Union Products, where his second assignment was to sculpt a pink flamingo.

…A flamingo-friendly trend was the sameness of post-World War II construction. Units in new subdivisions sometimes looked virtually identical. "You had to mark your house somehow," Featherstone says. "A woman could pick up a flamingo at the store and come home with a piece of tropical elegance under her arm to change her humdrum house." Also, "people just thought it was pretty," adds Featherstone's wife, Nancy.

from The Smithsonian
Part of this amazing story is that Don Featherstone's net worth was about 5 million dollars.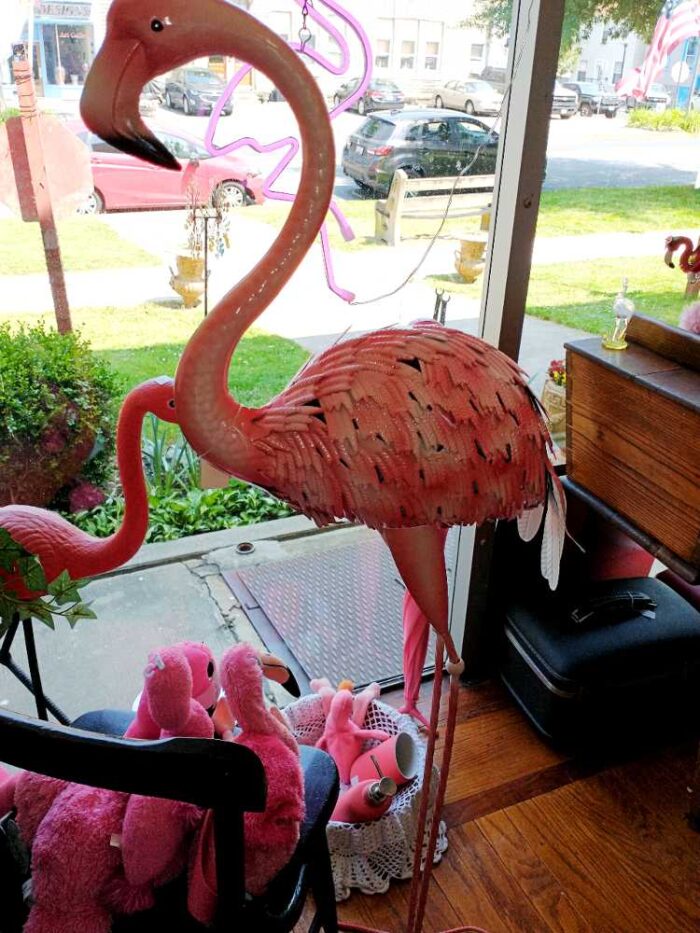 By the mid-1960s, the environmental back-to-nature movement more-or-less declared the very word 'plastic' an adjective for fake, and the American Dream was exposed as an empty ideal based in consumerism.

from BBC TRAVEL
The plastic flamingo became a bit of a class symbol as in, "Oh I'd never have that in MY yard!" The whole idea of 'plastics' was now gauche.
Enter John Waters of Baltimore
In 1972, Waters released the film Pink Flamingos, which was called both an abomination and an instant classic. The movie has almost nothing to do with the tropical fowl that stand sentinel during the opening credits…

from The Smithsonian
Optimism to Tacky to Nearly Banned and Back Again
The plastic pink flamingo following WWII was received as a symbol of the American Dream and optimism. Later it became the ridicule of all things plastic! Only to be revived as a kind of cult acceptance.
The plastic pink flamingo is a perfect example of perceived style going 'out' and returning years later. Sometimes tongue-in-cheek, sometimes with genuine appreciation, the pink flamingo seems to be a mainstay in American Culture, often just to be a bit silly or even contrarian!
But OUR PINK FLAMINGO is the creme de la creme – she's a beautiful tin (not plastic) sculpture.
So whatever reason you might have to own a pink flamingo, you'll definitely want to consider ours!
Pink Flamingo Movie Trivia
from Wikipedia
In the media and fiction, plastic flamingos are often used as a symbol of kitsch, bad taste and cheapness.
Here at Bahoukas, we try to be able to share a bit of trivia with our collections. As you can tell from this article, we work to discover little tidbits that will make your purchase extra special! Don't forget, we're hear and ready to say, "Welcome" (and maybe share a bit of trivia with you)!