ELVIS HEARTS
The feature image is of two beautiful candy heart boxes – one cardboard and the other metal. Visit Bomboy's Candy for your Elvis-loving sweetheart. Or maybe that special someone would prefer a box of macarons from Les Petits Bisous! Yep – the perfect gift! And no need to wrap – ELVIS says it all!
VINTAGE VALENTINES
We have THE cutest vintage valentine cards – from tiny 2″ or 3″ squares to larger cards. There's a perfect card for any age. Exquisite, romantic, even humorous!
VINTAGE POSTCARDS
Vintage postcards for your Valentine are also available. Again, they are beautiful and with a variety of sentiments. They can also add to someone's collection, be used on a gift you might be creating, or given in a frame.
Another HEART Idea!
This collectible green glass dish with a heart decoration is just the right size to add some jewelry (hint-hint), candies, or any other little 'somethings' you'd love to offer your special love.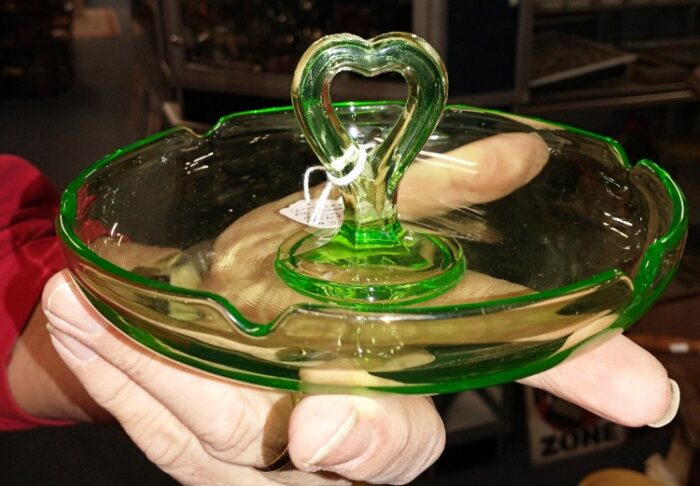 Of course, we have jewelry, wonderful tin signs, and pretty much any collectible that would be a perfect addition to your sweetheart's favorites. Something for all ages is available at Bahoukas.
And Yes – George is watchin' for ya! He's ready to help you discover that perfect gift. Hurry – less than two weeks til Valentine's Day!!