You have to see these Donatello pieces by Roseville to appreciate them.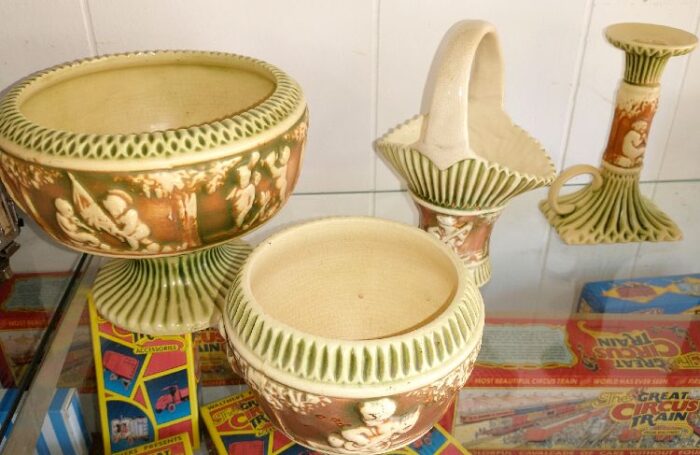 In 1908 Harry Rhead succeeded his brother as Art Director. In an era where hand-decorated wares were becoming unpopular and unprofitable, Harry began in earnest to create less labor-intensive lines. He was responsible for the creation of the famous Donatello line, which was produced for at least ten years. They sold over 100 shapes of Donatello and the line made the Roseville Pottery successful and profitable.

from Roseville Art website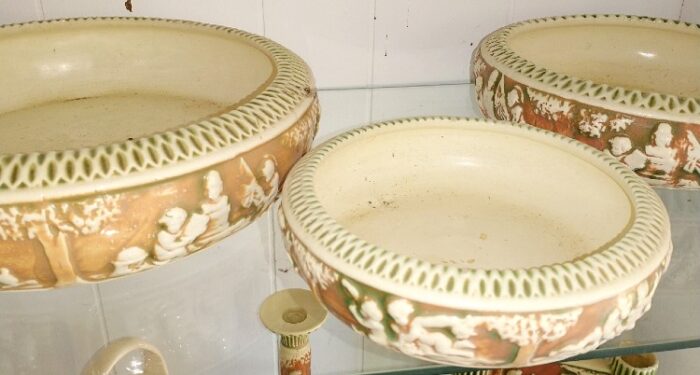 The Roseville Pottery was incorporated in Roseville, Ohio in 1892. Not only is its history long and well-received, its lines carry great value to collectors even to this day.
As with all other American pottery companies, cheaper imports from Japan undermined their sales. Constantly struggling to survive, Roseville Pottery limped along until 1954, when they sold the company along with all designs and plants to New England Ceramics Company who then sold it to Franklin Potteries of Franklin, WV. In 1954, all production of Roseville Pottery stopped. Even to this day vintage Roseville Pottery is collected by thousands of people world-wide. Prices have undergone wild swings over the years, and some patterns fall into and out of style with collectors. But with a solid history and thousands of different shapes, Roseville Pottery is certain to be collected for many decades to come.

from Roseville Art website
Beautiful Roseville Donatello pieces available at Bahoukas Antiques!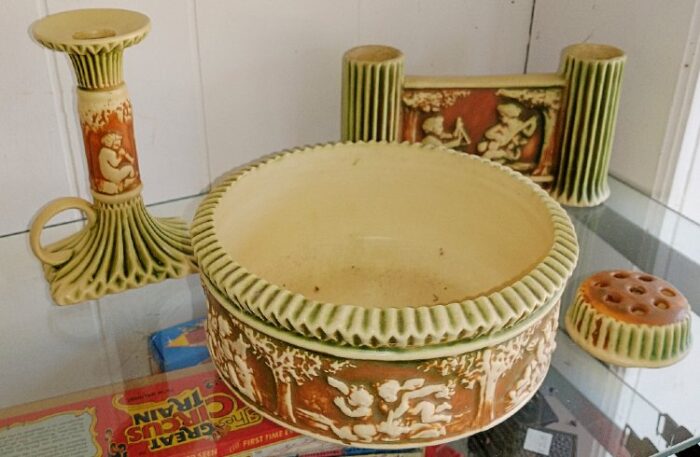 These pieces are outstanding! Stop by and view them for yourself. Beautiful pieces of Roseville Pottery from around the 1920s. And yes, we'll be watchin' for you!