TRIVIA QUESTION: You might have noticed that all cars in the United States have license plates that are exactly the same dimension of 6″ by 12." And soon after, at a World Meeting it was agreed that ALL countries would have vehicle license plates with the same dimensions.
WHAT YEAR DID THIS OCCUR? (answer at bottom of post – no cheating!)
Did you love cereal prizes?
Bahoukas Antique Mall recently received two collections of mini-license plates (or "bicycle" plates). The first is a series of metal license plates for each state of the U.S. They were offered in Wheaties cereal boxes.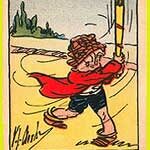 General Mills has been surprising cereal lovers with fun toys and games right inside the box, or by mail, for more than 90 years.

Our first on or in-the-box premium is believed to be Skippy cards, featured on 12 different Wheaties packages in 1933.

from blog.generalmills.com
One of our most memorable items were the mini license plates available in Wheaties boxes in 1954. Our Consumer Relations team still receives phone calls, emails and letters about them.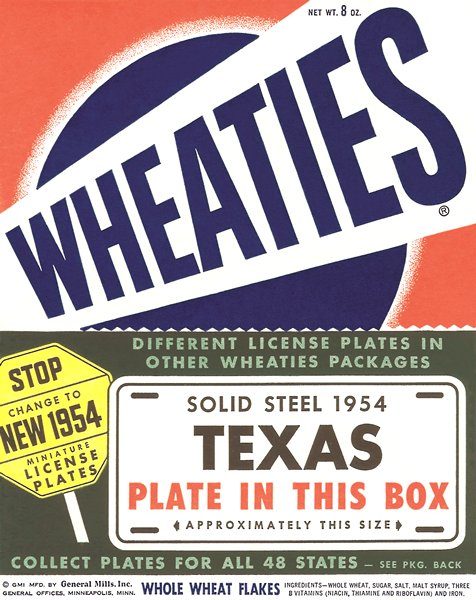 Cereal box prizes and premiums have been distributed in four ways. The first, not frequently used now, was an in-store (or point-of-sale) prize that was handed to the customer with the purchase of one or more specified boxes of cereal. The second method of distribution is to include the prize in the box itself, usually outside the liner bag—often called an "in-pack promotion" in retail marketing. The third method is attaching the prize to the box – "on-pack" promotion – (as with plastic records laminated to the back of the box) or printing the prize on the box (as with numerous games and trading cards) or simply attaching the prize to the box with tape or shrink wrap. Some prizes include a gameboard or other interactive activity printed on the box that corresponds with the prize inside the box, which is used as a gamepiece. The fourth method of distribution is to have the consumer mail in the UPC proof-of-purchase labels cut from a specified number of boxes, sometimes with a cheque or money order to defray the cost of shipping, and the premium is sent to the consumer by mail (rarely first-class), usually from a third-party source.

from Wikipedia
Mini-Cardboard License Plates
The second collection is a series of mini-cardboard license plates of World Capitals and U.S. States/Capitals. They include drawings and data on things like: State bird and other symbols, populations, etc.
Goudey Gum Company has an interesting history. Known for their artistic baseball cards in the 1930s, they also created these cardboard mini-license plates for the World's Fair, featuring countries and their capitals and U.S. States and their capitals. They also included stats like 'state/country symbol, flower, population, etc.'

They were released later in the early 50s.

from PSACard.com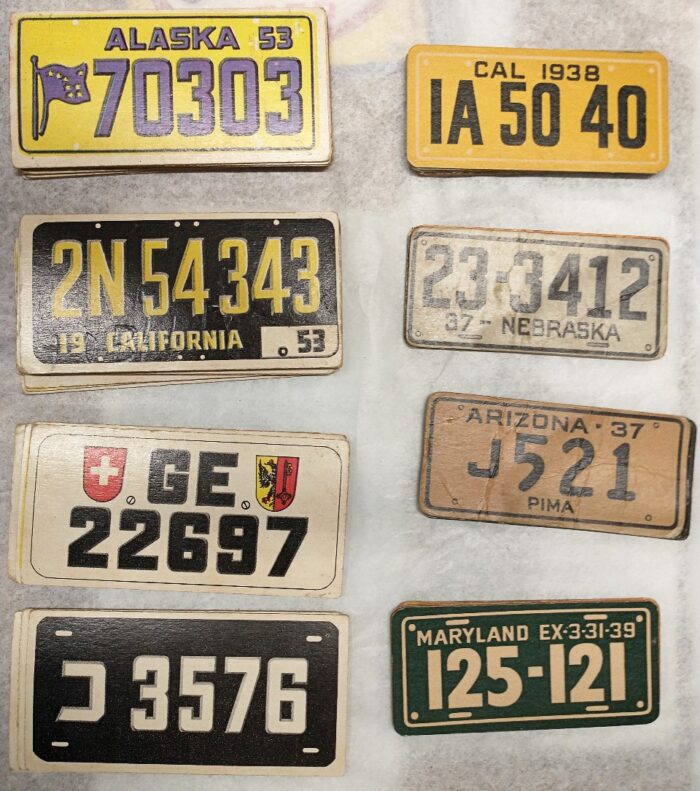 Read the article linked with this quote for more details on the unique character of the character behind the Goudey Gum Company as they tried to survive following WWI and the depression.
The Goudey Company survivors and descendants have something valuable to hold on to – a little gum company with limited resources that took a "little" bubble gum and small picture of someone or something, wrapped it with printed premium offers and sold it for one cent to "kids."

from PSACard.com
A bit more about the Goudey Gum Company can be found by CLICKING HERE.
CELEBRATE DAD'S DAY
Sunday we honor all the DAD's for their wisdom, their lessons, their humor, their laughter, and their love! It's a great reason to stop in and browse our shop. We have so many unique ideas that might be the most perfect gift for Dad! Of course, we'll be watchin' for ya … and we're here to help you discover that perfect gift (even if it happens to be for yourself. Shhh… we'll never tell!)
TRIVIA ANSWER: 1957