300 Million Plus
It is estimated that over the years, more than 300 million miniature Wade figures have been distributed with Red Rose Teas. Does someone you know collect them? And Red Rose Tea is still very popular as are their Wade miniatures!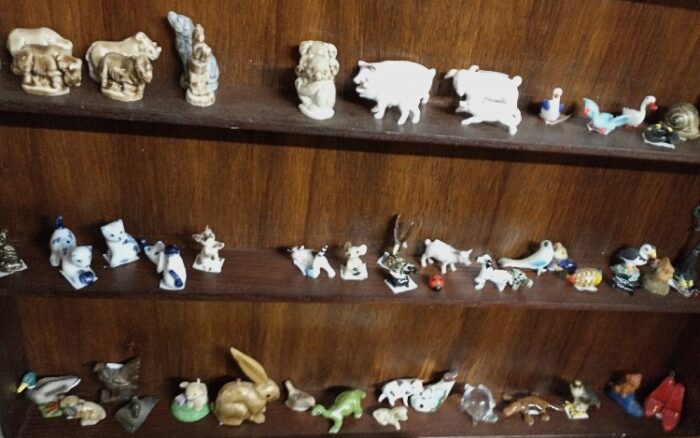 Another Tiny Collection
These miniature Wade Figures offer another 'tiny collection' that can be fun to collect. Maybe you have a child that would enjoy creating a collection. Originally called Wade Whimsies, there are several series created through the years.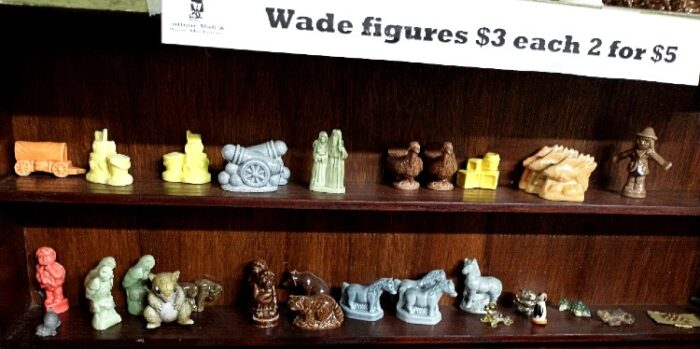 The American Series #1, (1983 to 1985) consisted of 15 figurines, with one Whimsies packaged in each box of Red Rose tea.
The first animal series included a chimp, lion, bison, bush baby, owl, bear cub, rabbit, squirrel, bird, otter, hippo, turtle, seal, wild boar, and elephant.
Series II ( 1985 to 1996 )
The second series, also of animals, was issued from 1985 to 1996 and totaled 20 figurines. It was selected from a group that had also first appeared in earlier Wade series. The animals represented were the giraffe, koala bear, pine marten, langur, gorilla, kangaroo, tiger, camel, zebra, polar bear, orangutan, leopard, rhino, raccoon, leopard, puppy, rabbit, kitten, pony and cockateel.
Series III – The Circus Animal Series (1994 to 1999) was the third to appear.
Fifteen figurines made up this series, including; ringmaster, human cannonball, strongman, clown with drum, clown with pie, bear, sitting elephant, standing elephant, male monkey, female monkey, lion, poodle, seal, horse, and tiger.
SERIES IV – Endangered North American Animals ( 1999 and 2002 ), was the fourth series.
The 10 figurines were the spotted owl, bald eagle, polar bear, peregrine falcon, humpback whale, Florida panther, manatee, green sea turtle, timber wolf, and sturgeon.
SERIES V – Noah's Ark was the fifth series.
Fourteen male and female animals, representing seven kinds of wildlife, and a single figurine of Noah and his wife made up the set of 15. They include the elephant, rhino, zebra, goose and gander, hen and rooster, ram and ewe, lion and lioness, and Noah and his wife.
SERIES VI – Pet Shop Friends ( 2006 to 2008 ) was the sixth series.
The 10 animals appearing between 2006 and 2008 were the duck, pony, rabbit, turtle, kittens, puppies, Labrador, budgie, tropical fish, and cat.
SERIES VII – The Wade Red Rose Calendar series ( 2008 to 2012 ) was the seventh series.
One figure representative of each month was included from 2008 to 2012: snowman, cupid, leprechaun, Easter bunny, Mother's Day flowers, graduation, Uncle Sam, sandcastle, scarecrow, pumpkin kitty, turkey, and Christmas tree.
SERIES VII – the Nautical Wonderland Series, the eighth and current series, was introduced in 2012.
The series includes the compass, conch shell, mermaid, ships wheel, treasure chest, divers helmet, lighthouse, sailboat, seagull, seahorse, crab, and starfish.
NOTE: the info for Series I thru VII are from Antiques-Mark.com
Did You Know?
They are still creating Miniature Wade Figurines for Red Rose Tea. And the Red Rose Tea website has very interesting information related to their teas as well as their Wade figures.
*In 2012, The Nautical Wonderland Series came next.
Explore our nautical heritage with these twelve figurines. This series illustrates everything to love about the ocean, from the warmth and calm of the beach, to the adventure and spirit of sailing the seas, to the mysteries and legends of the sunken depths.
*American Heritage Series (2016)
Exclusively designed by Wade Ceramics, these splendid, porcelain miniatures celebrate the illustrious history of America, from Colonial Times to the Space Age. Red Rose Tea is proud to depict landmark moments in our national history through these distinguished miniatures.
*World Monument Series (2020)
Explore the globe with these porcelain miniatures exclusively designed by Wade Ceramics! Iconic landmarks, feats of architecture and mysteries of the world are represented. Travel back to ancient times or marvel at modern achievements – the Worldwide Monument Series has it all!
*These are from the Red Rose Tea website. At this site, you can view photos of the latest miniatures.
So stop by and see our collection of Wade miniatures. Maybe you'll want to add to your own collection or help a young person start their 'tiny collection.' We're here. And yep, we're watchin' for ya!