… who knew?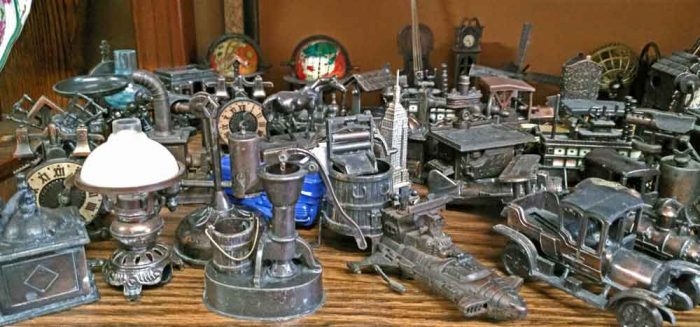 Taking photos for this blog, I discovered a shelf stuffed with die-cast pencil sharpeners… little tiny pencil sharpeners. These are amazingly detailed. Who would have thought?!?
Here's one example of a serious collector that also shows us how many kinds of miniature pencil sharpeners there are! Click on the link in the quote for more info.
For many years we (Johan and Anky) have collected Die-cast miniature pencil sharpeners. Our collection now consists of over 500 different pieces and we would like to add some more.

from Sharpenking

GIFTS IDEAS?
If someone has a special interest whether it be music, cars, motorcycles photography, art … well, you name it, we probably have a miniature pencil sharpener that would make an outstanding, fun, and thoughtful gift.
Here is another collector of tiny pencil sharpeners:
Paul Johnson collected 3,479 pencil sharpeners (no duplicates) and displayed them in a one-room shed in his yard in Carbon Hill. He died July 2010; the shed and collection are now displayed in the Hocking Hills Regional Welcome Center.

from Roadside America
We encourage you to check out this most amazing collection that we just acquired at Bahoukas Antique Mall and Beer MuZeum. Yes sir (m'am), we'll be watchin' for ya!