… a beautiful collection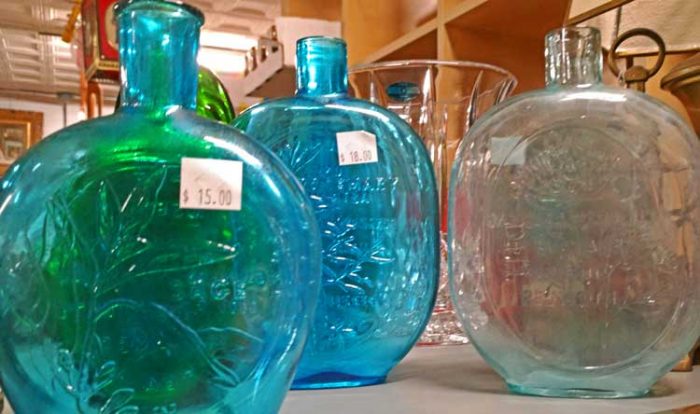 These bottles are beautiful and decorative. They would be lovely with a flower or two, or just sitting on a window sill reflecting the sunshine.
Besides Corning, did you know there's a wonderful glass museum in S. New Jersey?
The American glass industry began in southern New Jersey because of its availability of natural resources such as wood, sand, soda ash, and silica. The nation's earliest successful glass factory was founded in 1739 by Caspar Wistar in nearby Salem County. Many of the nation's foremost glass factories operate in South Jersey.

In 1888, Dr. Theodore Corson Wheaton, a pharmacist, began making his own pharmaceutical bottles in a glass factory in Millville. From these beginnings, today's giant glass manufacturer, Wheaton USA (formerly Wheaton Industries, Inc.), evolved.

In the early 1960s, Dr. Wheaton's grandson, Frank H. Wheaton, Jr., visited the Corning Museum of Glass in Corning, New York. He discovered that much of the glass created and produced in southern New Jersey was displayed in this museum. He felt that these treasured museum pieces should be displayed in the areas in which they were produced…southern New Jersey.

from WheatonArts.org
These bottles were popular in the mid-Atlantic region.
Residents of New Jersey north of Burlington County might not be completely familiar with Wheaton bottles, but Delaware Valleyans might consider them old friends. For at least a generation, a living room wasn't complete without one on display.

If you lived in southern New Jersey, you regularly encountered these distinctive and brightly colored bottles featuring reliefs of famous individuals from history.

from NJ.com
Stop by and consider 2 or 3 of these beautiful bottles and add a stem or two of flowers. Then keep thinking 'spring'… it's not far away!
We're here at Bahoukas and we'll be watchin' for ya!