Makes a Rainy Day Much Better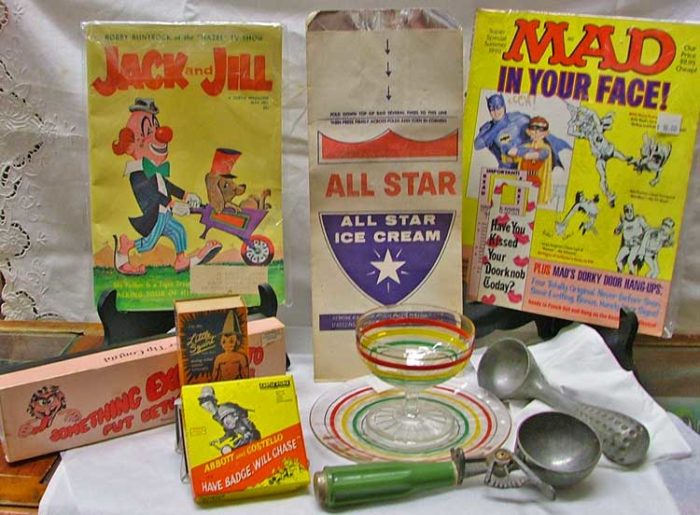 We have a variety of Ice Cream scoops and a few unique dishes for enjoying your ice cream. From HolidayHindsights we've learned:
 National Vanilla Ice Cream Day celebrates one of Americas favorite ice cream flavors.

Vanilla and chocolate ice cream vies for the taste buds ice cream lovers. Chocolate may win the popularity contest. But, vanilla is a close second. It is also more refreshing, and more versatile.

Its easy to celebrate Vanilla Ice Cream Day on a hot summer day like today. Enjoy it in a cone, a dish, a float, a shake, or in a cake. If you get it in a cone today, ask for extra scoops, and worry about the calories later. Just make sure to eat it quickly, before it melts.
We might add that a trip to Bomboy's Ice Cream on Market Street just might make the day perfect.
To help with celebrating Old Joke Day on Tuesday, July 24, 2018, we share these thoughts from HolidayHindsights:
No doubt about it. Today, will be a fun-filled day, with lots of laughter. To fully participate and enjoy this day, just tell some jokes. You can do it in person, or pass along a few humorous emails. That's easy enough to do. The more jokes you tell, the more fun this day will be. We also encourage you to listen to many jokes today. Everybody is getting into the act, and in order to tell a joke, someone has to be present to listen to the joke.
To celebrate Tell An Old Joke Day, we have 2 'adult jokes', wonderful MAD Magazines, Jack & Jill Magazines (that always had fun jokes), and an 8mm film "Have Badge, Will Chase" with Abbott &* Costello!
… on Tell an Old Joke Day, you should tell old jokes. The logic behind this, is to keep old jokes from fading away. If they were once funny, they will still produce a laugh. On National Tell a Joke Day on August 16th, you can tell a new joke, or an old one.
So come on by and pick up an ice cream scoop, a pretty dish to enjoy your ice cream, and grab a magazine for a joke or two!  Hey, maybe you have an old joke you want to share with us. We'll be watchin' for ya!