… fun for kids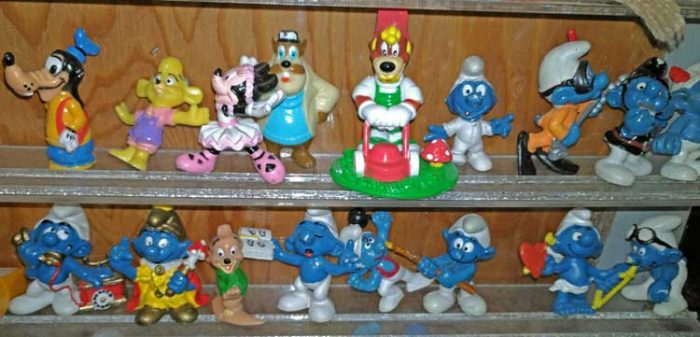 SMURFS have been BIG business! Here's a quote from Wikipedia:
The Smurfs is a Belgian comic book series created by Peyo in 1958. It became well-known worldwide with the Hanna-Barbera cartoon series in the 1980s. With the popularity of the Smurfs came a wide range of toys and spin-off products and use of the Smurfs in merchandising. Smurfs' merchandising in 2008 generates about 5 to 12 million euro per year in Europe alone, while the total figure after fifty years worldwide is about $5 billion.
Do you know how many female Smurfs there are? Do you know their names? We'll give the answer at the end of the post.
Are you familiar with FLIX?

No, we're not talking about the soft fur of a beaver or software! We're talking about the fun FLIX Candy Gumball Machines.
This recently acquired collection are in their original packaging and included Power Ranger Super Heroes and Flintstone Characters. These are another great way to start a youngster in the joy of collecting.
We invite you to bring your youngster in to browse the shop. Share your stories with them and encourage them if they show signs of wanting to 'collect.' We love meeting young collectors. We'll be watchin' for ya!
The answer to the Female Smurfs:
Smurfette , Sassette, and Nanny.
When the movies came out, more were created.