It's that time of year when baking …
and cooking things like soups and stews help us to take the chill off the house. We thought it was also a perfect time to share a most unique implement that many of you have in your home –  the simple rotary egg beater and a bit of its history!
Below is a collection of egg beaters available at Bahoukas Antique Mall. Top row (l to r) include red-handled Merry Whirl 1916 egg beater (USA), 1916 egg beater, A&J 1923 egg beater – red or green handled – made in USA, and a steel handled egg beater (USA).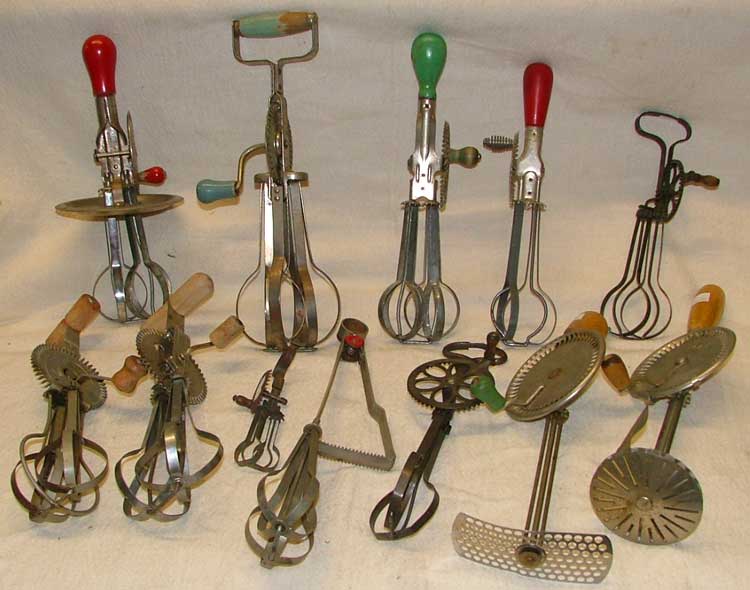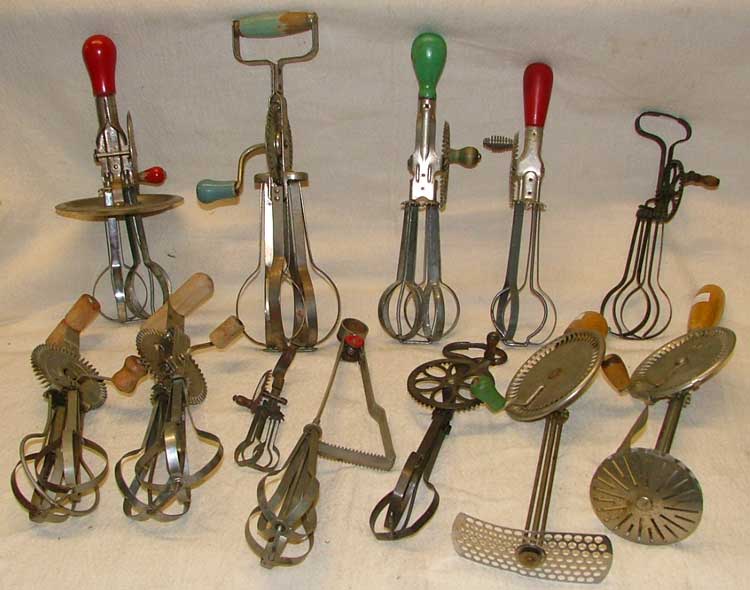 Bottom row includes (l to r): Ladd egg beater by United Royalty Corp NY – 1929, high speed super center drive beater, child's egg beater, One Hand Whip – this one you squeeze, 1904 Dover Pattern Improved egg beater (USA), Dunlap's Sanitary Cream & Egg Whip – no spatter/no waste – 1916, and an A&J Whippit – cream whip.
…By the 1870s, the Dover cast-iron rotary eggbeater hit the market and revolutionized cooking in American kitchens. Now, that 90-minute chore took just 5 minutes. Cooks all over the country could rest their weary arms and still produce light, fluffy egg whites. In fact, Dover eggbeaters became so common that all eggbeaters were called Dovers, even when manufactured by another company.

…(Taplan created an improved Dover)…In 1903, this eggbeater could have been purchased at any one of the 10 hardware stores listed in the La Crosse city directory. Fifteen years earlier, such a fancy tool would have cost more than a dollar, but, by the turn of the century, these beaters were so common they could be purchased for less than 10 cents.

from LaCrosse Tribune
Yep, if you've read this far, you've learned that a "Dover" was what most folks called the egg beater – kind of like when we use the trademarked "Kleenex" to mean a facial tissue!
Amazingly, it took nearly 90 minutes to get fluffy egg whites until the egg beater reduced that chore to 5 minutes!
Would you like to know exactly how the rotary egg beater works?
CLICK HERE for a description of the mechanics of this labor-saving kitchen tool from the BBC – history of the world or you can watch this video!
Imagine…. it took 90 minutes to accomplish those fluffy egg whites before the invention of the egg beater!
Happy Baking!
When you need a break, or a practical tool, stop by Bahoukas Antique Mall. We'll be watchin' for ya!