Money Clip? Money Belt?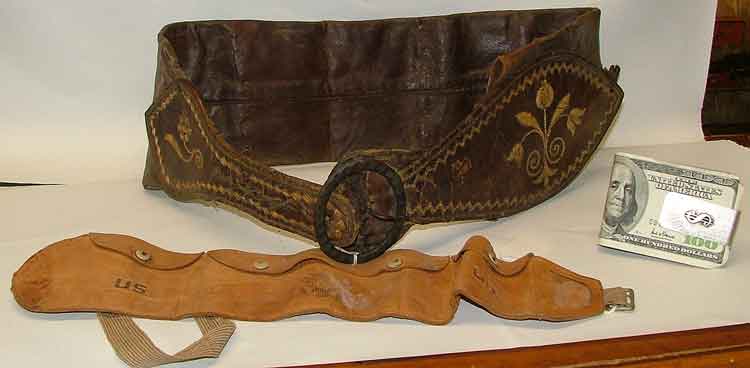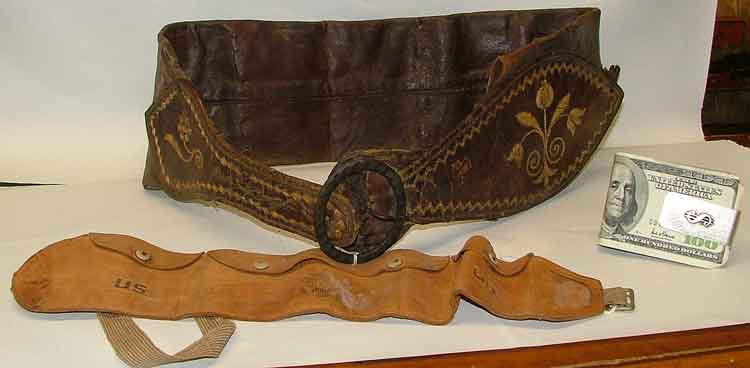 The money clip is an optional fashion accessory for the male wearer. It keeps paper money sorted and prevents it from being rumpled-looking in the pants pocket. There is a modicum of style attached to the use of this kind of clip. After all, if you are going out for a night on the town, it would not do to pay club cover charges with badly folded and crumpled up dollar bills. It is far more impressive to pull out a wad of neatly folded cash and hand the doorman the right change in the blink of an eye.

It is fair to say that the history of the money clip is directly tied to the history of non-coin currency.   … 

Peter Suchy Jewelers blog 
It was interesting to learn that Invented during China's Han Dynasty in 118 BCE, original lightweight bank notes were made of leather. (from above post)
… an early precursor to the money clip is the drafts organizer of ancient Mesopotamia. Although it would be accurate to say that this clip is more closely related in function to a paper clip, it does factor into the money clip's history by virtue of the items it secured. Back in 323 BCE, a clip would be used to hold notes detailing the storage of grain. The clips prevented loss of papers and helped with the easy distribution of the notes. A similar clip was used in Japan until about 300 CE for notes detailing rice storage.    … 

Peter Suchy Jewelers blog 
Interestingly, because most money clips are metallic, they are not necessarily as good a deal for travelers today. But …
… Although rare, carbon fiber money clips are starting to see market acceptance. Using advanced moulding techniques, the high strength and durability of carbon fiber make for ideal qualities. The carbon fiber allows the clamping surfaces to open beyond parallel, without the deformation of normal metal money clips. Also, being non-metallic they are 'scanner proof' which allows the user to pass through metal detectors without having to remove cash and credit cards.  

 from Wikipedia
Many guys will recognize the U.S. Army Money Belt which makes it easier and safer to carry money, important papers, etc. Money belts are described in Wikipedia:
Money belts are belts with secret compartments often worn by tourists as a precaution against theft. One form of money belt is a belt with a pouch attached to the front which is worn under a shirt to protect valuables from thieves and/or pickpockets.

Another form appears to be an ordinary belt when worn, but contains one or more hidden pockets on the inside, often closed with a zipper. Money belts are often worn by tourists as a precaution against theft.

Items typically placed in a money belt generally include such things as a passport, travel tickets, driver's license, credit cards, cash, and jewelry. A significant problem is that scammers, pickpockets, beggars, and the like, know that the presence of a money belt brings a high likelihood of the bearer being a tourist, and therefore a high-value target, bringing more attention upon the wearer than desirable.   from Wikipedia
The most amazing money belt in our shop at Bahoukas Antiques is this 200 years old leather belt shown in the photo. It was from around 1800-1820 and was used by the lady's great grandfather as he traveled west in a wagon train! WOW!
As you see, we have truly unique items in our store. We look forward to your next visit!