Day 13 Offers Locks!
No – not Goldilocks! Nope – not locks of a canal. But locks that require a key or a combination.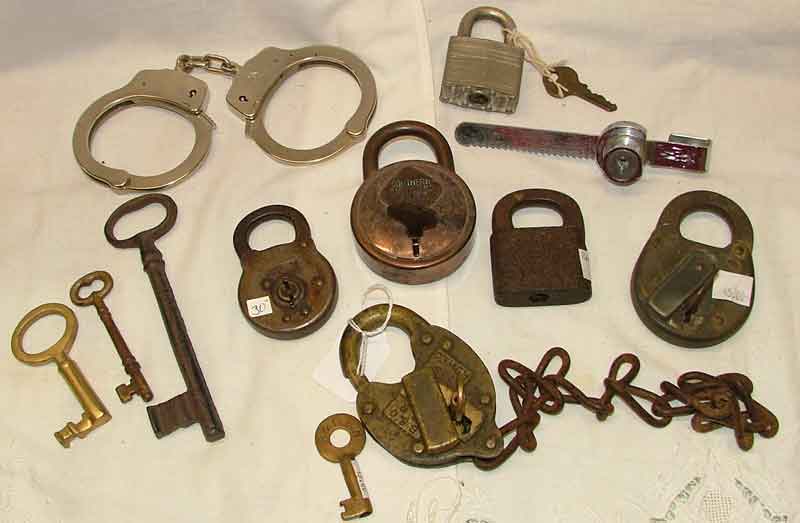 Here we have several railroad locks: B&O RR, PA RR, and Southern Rio Grande Pacific. We also have Master locks,a showcase lock, and even 'handcuffs.' We have a variety of old keys as well.
Over 6,000 years ago, locks may have been simply special knots tied in a rope that would tell the owner that someone had been in their belongings. From History of Locks, we offer this interesting quote:
History of mechanical locks started over 6 thousand years ago in Ancient Egypt, where locksmith first managed to create simple but effective pin tumbler lock that was made entirely from wood. It consisted of the wooden post that was affixed to the door, and a horizontal bolt that slid into the post. This bolt had set of openings which were filled with pins. Specially designed large and heavy wooden key was shaped like modern toothbrush with pegs that corresponded to the holes and pins in the lock. This key could be inserted into opening and lifted, which would move the pins and allow security bolt to be moved.
The History of Locks also mentioned this interesting bit of information concerning the Dark and Middle Ages in reference to locksmiths:
to try to confuse or compound lockpickers with new tactics. Instead of one simple lock they created multiple key mechanisms, increasingly complicated key designs, they obscured keyholes with detailed ornaments, created fake keyholes (with fake mechanisms inside), and more.
As to handcuffs, we've learned from A History of Handcuffs that …
The first recorded mention of handcuffs appears in Virgil's telling of the myth of Proteus…
MASTER LOCK PADLOCKS
Most of us are familiar with the name "Master Lock" and probably have owned a few over the years. We can think of bicycle locks, a lock for our school locker, or maybe even a lock on our tool box!
Master Lock was founded by Harry Soref in 1921.
In 1924 they started running ads like the one in this photo from their website,
If Bank Vault Doors and battle ships were built in laminated layers of steel for greater strength, why not make padlocks the same way? The first Laminated Steel padlock was invented and patented on April 22nd.
And did you know that Harry Soref helped Houdini? Here's a quote from the Master Lock website:
By 1925 Harry Soref became a recognized icon with padlocks. Escape artist Harry Houdini visited Soref after he was unable to escape from a pair of handcuffs. Soref advised Houdini on trick places to hide padlock keys between his fingers and under his tongue during stage shows.
… and yes, they even did really well during Prohibition!
On February 20th, 1928 a container of 147,600 padlocks was shipped to federal agents in New York City. These locks were used to lock down many of the establishments that continued to sell the outlawed alcohol during prohibition.
These are just a few tidbits we discover when we write our blog posts.
No matter … stop by and see if one of these items would make a perfect gift for the magician on your Christmas List or maybe a great decorative item! We'll be watchin' for ya!