In 1968, tempered glass sphere models emerged that would eventually shatter, sending glass shards into the face of the user and anyone nearby. In the early 1970s, manufacturers changed them to plastic spheres suspended on each string. When they were swung up and down, banging against each other with a lot of force they made the loud "clacking" sound. Clackers are similar in appearance to bolas, the Argentine weapon. They are formed out of two solid balls of polymer, each about 2 inches (5 cm) in diameter, attached to a finger tab with a sturdy string. The player holds the tab with the balls hanging below and through up-and-down hand motion makes the two balls swing apart and back together, making the clacking noise that gives the toy its name. With practice one can make the balls swing so that they knock together both above and below the hand.

Clackers have also made some appearances in pop culture media. They are featured in the television shows of Dan Schneider, most notably the 2007 episode of Drake & Josh, "Megan's First Kiss," and in the 2008 Zoey 101 episode "Rumor of Love", which described the toys as "the hottest in the 1993 Netherlands", and which increased interest in the toys. Clackers were a plot point in the 1993 "Love and Sausages" episode of The Kids in the Hall TV series. They were also used as weapons by Joseph Joestar, the protagonist of the "Battle Tendency" arc of JoJo's Bizarre Adventure; their appearance there is anachronistic, as "Battle Tendency" takes place in 1938.

from Wikipedia
Or maybe you just remember driving your mom crazy with the 'clacker' sound!!! Check out this video!!
DIRECTIONS FOR USING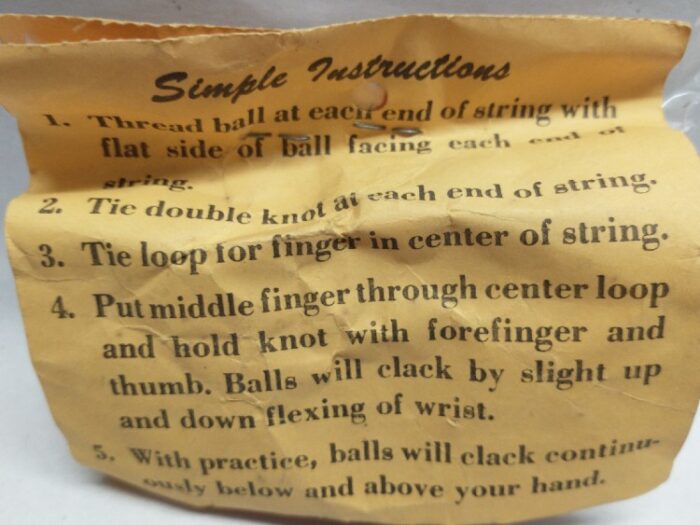 We don't recommend using these since they are the originals and we don't want anyone hurt. But if you're a collector of toys, they'll be a great addition!
EXPLODING CLACKER BALLS
Did you ever have the clacker balls explode? Evidently, it created quite a stir. At one point the FDA, Society for the Prevention of Blindness, and even the Consumer Product Safety Commission deemed them a hazard. Read more about them by CLICKING HERE
It appears that you can still get Clacker Balls. They are made of plastic and do not shatter. The noise will still make one crazy. (chuckle)
Don't forget to stop in soon. We're watchin' for ya!