and Wednesday Charms!!!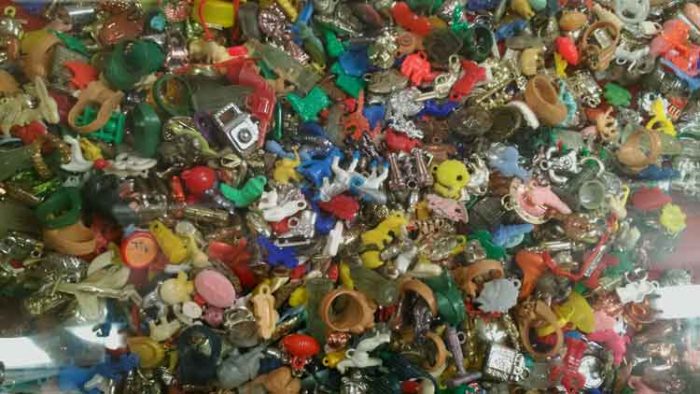 "A Prize in Every Box"


The most famous use of prizes in the United States (and the word "prize" in this context) is Cracker Jack brand popcorn confection. Prizes have been inserted into every package of Cracker Jack continuously since 1912. A familiar jingle to people who watched television in the United States in the 1960s and '70s goes "Candy-coated popcorn, peanuts and a prize. That's what you get with Cracker Jack!" Cracker Jack sales are not what they used to be, with much more competition in the snack industry and less creative prizes. The most valuable prizes found in Cracker Jack are the baseball cards distributed in 1914 and 1915. Although most of the prizes recently are just printed paper, in 2004, a complete set of 1914 Cracker Jack baseball cards — including the highly sought after "Shoeless" Joe Jackson and Ty Cobb cards — was sold for a record $800,000.

from Wikipedia


Prizes in boxes, gum, cereals, machines – well, just about anything someone can tuck a tiny prize into – are always fun. Stop by and see our Wednesday Box Surprise – a huge case of charms.
Let us know how you use these tiny charms: jewelry, art, shadow boxes? Yep, we'll be watchin' for ya. After all, it's the first day of Spring 2019!!