Ever Wonder How the Piggy Bank Got Its Name?
The piggy bank's history goes back to the Middle Ages. Check out this interesting trivia!
Believe it or not, the basic piggy bank used to be far more than just a childhood relic. The concept of stashing cash in hollowed objects has been around for nearly six centuries – before banks themselves were even dreamt up.
from Business Insider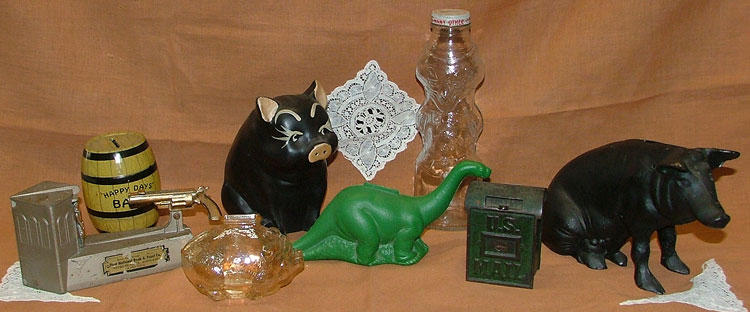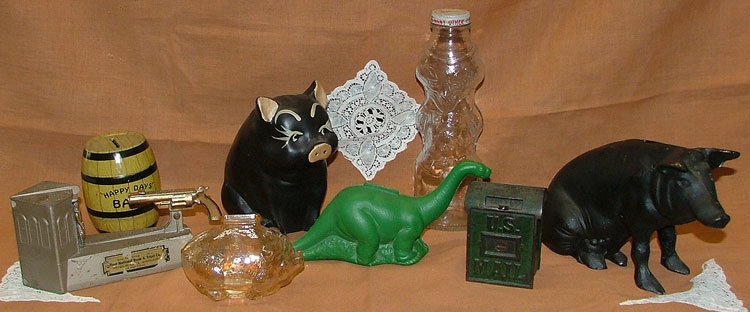 Bahoukas Antique Mall in Havre de Grace has a delightful collection of banks – yes, including 'piggy banks!' Left to right they include: a mechanical cowboy souvenir bank from Havre de Grace First National Bank & Trust (not for sale), a J. Chein tin bank that says "Happy Days Bank," a glass piggy bank (I remember these!), a large chalk ceramic Piggy Bank, an advertising piece – Sinclair Dinosaur Bank, a glass 'fox' bank that originally had drink flavoring in it, U.S. Mail box cast iron bank from the 1920s, and a 1930s cast iron piggy bank!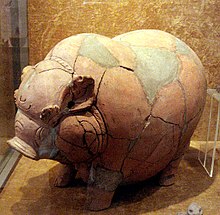 Along with the amazing history of the Pygg Pot, we share the desciption below:
Pygg is an orange colored clay commonly used during the Middle Ages as a cheap material for pots to store money, called pygg pots or pygg jars.[3] There is dispute as to whether "pygg" was simply a dialectal variant of "pig."[4] By the 18th century, the term "pig jar" had evolved to "pig bank".[5] As earthenware was supplanted by other materials, such as glass, plaster, and plastic, the name gradually began to refer specifically to the shape of the bank, instead of what was used to make it.  fromWikipedia
So, tell the truth, did YOU know how piggy banks got their name? As we keep sharing, you just never know what you'll see and learn when you stop by Bahoukas Antique Mall and Beer MuZeum in Havre de Grace. As you know, we'll be watchin' for ya!