The Great Muppet Caper
This set of 4 glasses is from 1981. Highly collectible! You can't help but love Miss Piggy and Kermit the Frog! Hurry in and check these out.
This collection is part of a wonderful addition of collectible character glasses to our store. Consider these: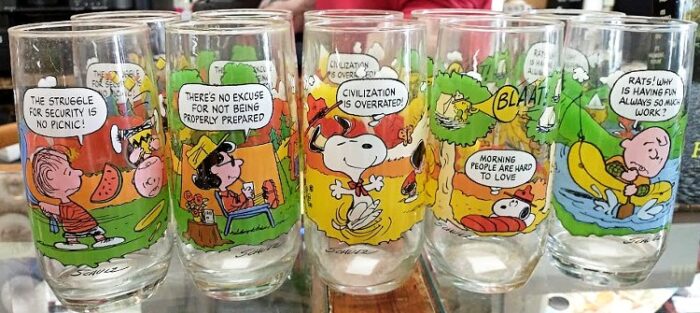 The set is made up of 5 glasses (1950-1968) and includes Linus ''Struggle for Security,'' Lucy ''Properly Prepared,'' Snoopy ''Civilization,'' Snoopy ''Morning People,'' and Charles Brown ''Hard Work." Excellent Condition!
Love "Garfield"

This 4-pc set includes: "It's not a pretty life" … "Easy to get along with" … "not one who rises to the occasion" … and "Use your friends wisely." Again, these are in pristine condition.
Maybe the "Flintstones" are more your style…

This set of 4 mugs is beautiful as well as fun. Excellent condition. Must be seen to be appreciated.
Or "Batman Forever" series…

This beautiful set includes Batman, Robin, Riddler, and Two Face. Another collection in excellent condition.
These very collectible McDonald's glasses and glasls mugs sets are in excellent condition. Stop by soon and pick your favorites to add to your collection!
Yes, we're here … and we're watchin' for ya! See you soon!