Love an old-fashioned Christmas?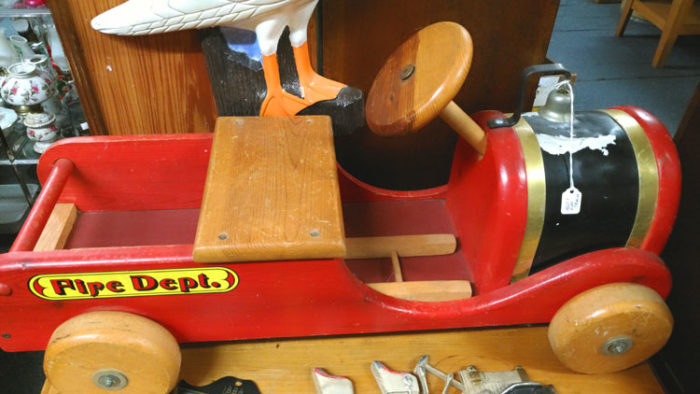 One of the things we hear people saying is how 'commercial' Christmas is. We can help change that if you visit us at Bahoukas Antique Mall. We have a wonderful variety of toys and gifts that add value and excitement to your gift-giving.
Above is a well made, wooden firetruck sure to please that young toddler on your list. Nothing fancy, nothing to break, just a great toy! Stop by and see it for yourself.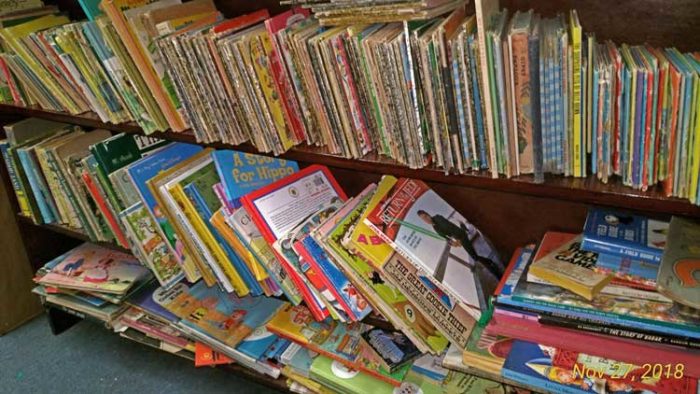 Remember all of your favorite books of years gone by. You can bet that we have some of them in our store. Come browse our children's book section and find a couple that you'll definitely want to share with the young reader on your list. Remember, there's nothing kids love more than having you read to or with them!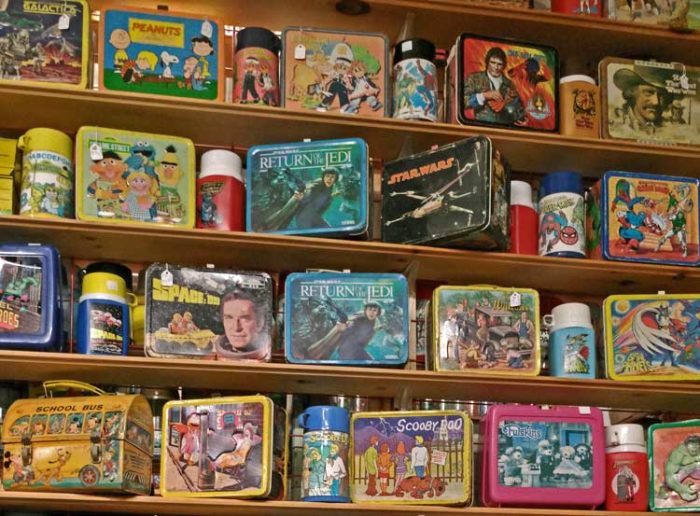 Everyone had a favorite tv or movie character, often on their favorite lunch box. We have a huge collection of character lunch boxes that you'll surely discover the perfect one for the lunch-carrying kid on your gift list. Or maybe, they just want to hide their treasures in one. Oh, and don't forget, there are 'big kids' that love carrying one of these to work! So come in and pick out a couple for those on your gift-list that carry lunches or have treasures to hide!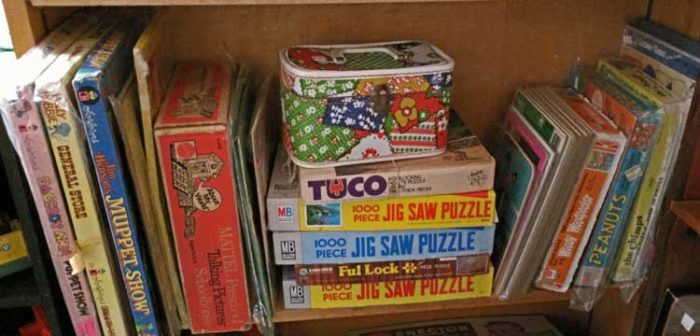 This is only one shelf of a huge collection of puzzles for all ages. We have large puzzles of 6-8 pieces for the toddler, 24 pcs for the pre-school, and plenty of other puzzles of all shapes, sizes, and number of pieces to entertain any puzzle lover – toddler to adult!
So while you're enjoying tonight's Holly Jolly First Friday with parade at 6, the lighting of the tree, carolers and stilt walkers, Santa's arrival, shops open late, plenty of eateries – indoors and outdoors, take a few minutes to check out all that we have to offer for those on your gift list (and yes, even for yourself)! You can always come back tomorrow when the kids aren't with you.
In the meantime, enjoy the festivities. We'll be watchin' for ya!