No, we're not talking food – but cameras!
Yes, we're living in a world full of selfies. Smiles that are so practiced that we've nearly forgotten what a great, spontaneous smile actually looks like. But stop by our shop for a great history of photography as you browse our vintage camera collection.
Over the past year or so, here at Bahoukas Antique Mall, we've acquired a surprising variety of antique, vintage, and collectible cameras. Whether you're a photographer who loves to collect vintage cameras or someone who just loves how they look as unique decorating items in your home or office, we have a wonderful selection to choose from.
In researching the collecting of cameras, we found this most informative blog post on "How to Start a Camera Collection" from the blog Amateur Photographer. CLICK HERE to read a great post and maybe tickle your 'collector self' into considering a small camera collection.
Here's a short video that gives you a bit of camera history as well as the joy of collecting.
Did You Ever Make A Pinhole Camera?
Many can remember, as a kid, making a pinhole camera from an old shoebox. Did you ever do that? Have you shared that with your kids or grandkids. In today's busy, techie world, it might be fun to share this simple project with a youngster in your life while teaching them a bit about how our eye and brain work to give us our vision and the pinhole camera is a great example.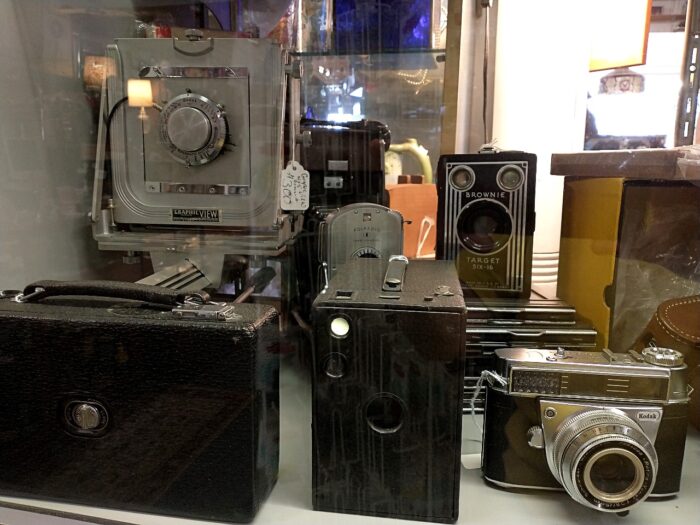 Vintage Fun
Stop in today and browse our wonderful variety of cameras. Add to or start your collection today!
Of course, as always, we'll be watchin' for ya. Stop by and say 'hello' and share your favorite collectibles! You might just discover an addition that "you'll just have to purchase!" See you soon!