The First Was in New York 1853-54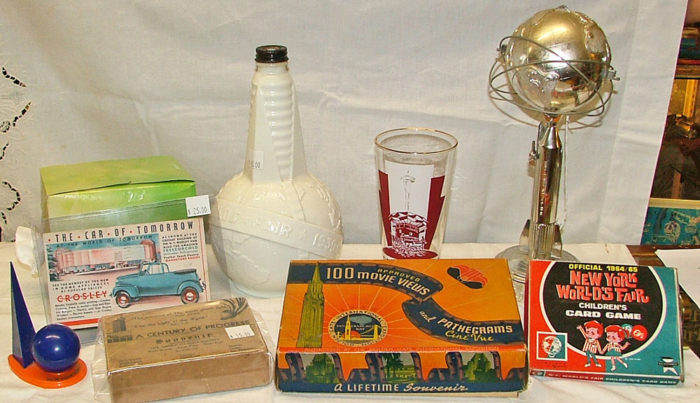 We have a few wonderful collectibles from World Fairs of yesteryear. The above photo includes the following:
FRONT (l-r): 1939 World's Fair Triathlon Salt & Pepper (New York) – this piece is truly unique. Made of the Fair's Trylon & Perisphere. You pick up the entire piece, shake from one side and you'll have salt; shake from the other side and you'll have pepper. Next is the item from Century of Progress – American Bible Society Pamphlets. From the 1939-1940 International Expo are 100 Movie Views & Pathegram (viewer) from the Golden Gate/San Francisco Bay. Finally the 1965-65 New York World's Fair Children's Card Game.
BACK (l-r): Postcard from the 1939 World's Fair "Car of Tomorrow" – a Crosley. It includes "My Feet are NO longer tired after what I've seen at the Crosley Building." Next is a 1939 New York World's Fair Vinegar Bottle. Next to that is a 1962 glass from the Seattle World's Fair. And finally a unique bank from the 1964-65 New York World's Fair.
From what we've been able to learn from America's Best History website, there were 30 World's Fairs in the U.S. between 1853 and 1984 offering a wide array of exhibits and activities that generally included a 'look at the future.' This site has abundant information from each of the World's Fairs. Click on a postcard and learn more. Then pop into Bahoukas Antique Mall and Beer MuZeum to check out these wonderful collectibles. Yep, we'll be watchin' for ya!