Pianos!?!?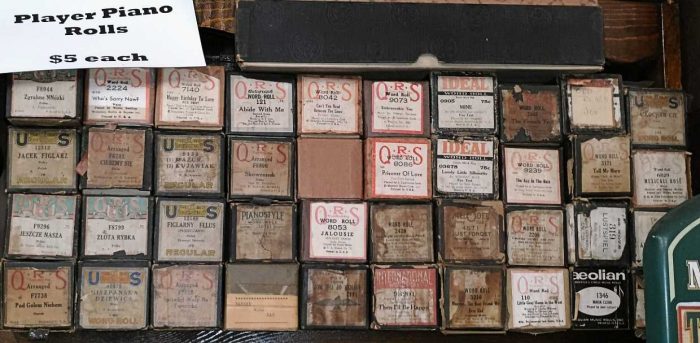 Well… not exactly!
Looking for unusual, and often forgotten, items, we found these up on a shelf. We have quite a selection of old Player Piano Music Rolls.
First, let me explain what a player piano is. According to Wikipedia:
A player piano (also known as pianola) is a self-playing piano, containing a pneumatic or electro-mechanical mechanism that operates the piano action via pre-programmed music recorded on perforated paper, or in rare instances, metallic rolls, with more modern implementations using MIDI. The rise of the player piano grew with the rise of the mass-produced piano for the home in the late 19th and early 20th century.[1] Sales peaked in 1924, then declined as the improvement in phonograph recordings due to electrical recording methods developed in the mid-1920s. The advent of electrical amplification in home music reproduction via radio in the same period helped cause their eventual decline in popularity, and the stock market crash of 1929 virtually wiped out production.

WIKIPEDIA

Now we'll add a video to actually show you how it works. The first minute or so shows it before it's fully repaired. About half-way through, you can see and hear it working. Pretty cool, huh?
So, what DO we do with these piano rolls?
Well, if you don't have a player piano, you might want to consider a craft or two where these would be amazing. If you search Pinterest, you'll find hundreds of ways to incorporate these rolls.
On the other hand, are you an artist who loves working with paper? Then you may already see a dozen uses. I'm wondering if those folks who sculpt using old books might find these of interest. Hmmmm….
CLICK HERE for just one blog post I found that's pretty interesting. There are lots more.
If you're still trying to picture using these rolls in a craft, view this blog post we found.
Of course, now that you realize how beautiful these piano player rolls really are, you might want to stop in and grab a couple for yourself. Want a dozen or more, or even all of them, talk to George for a deal. Yep, we'll be watchin' for ya!