Howdy Doody and other puppets!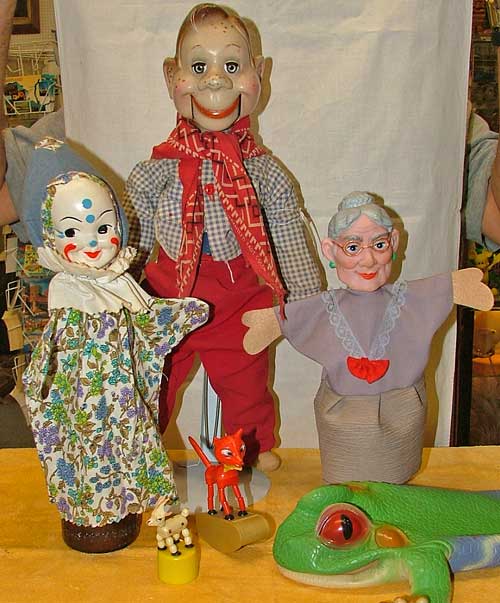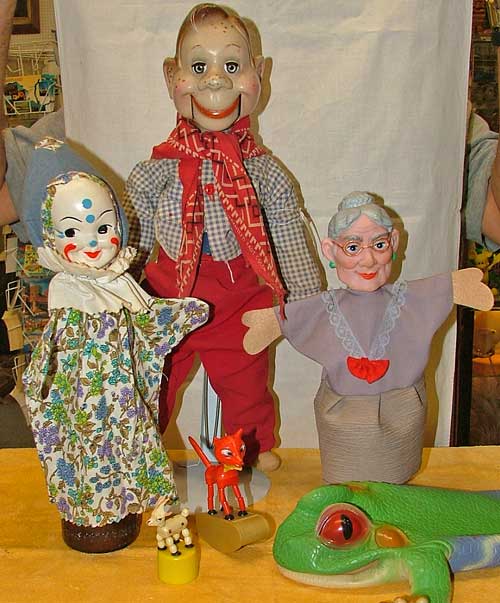 Howdy Doody was an American children's television program (with circus and Western frontier themes) that was created and produced by E. Roger Muir and telecast on the NBC network in the United States from December 27, 1947, until September 24, 1960. It was a pioneer in children's television programming and set the pattern for many similar shows. One of the first television series produced at NBC in Rockefeller Center, in Studio 3A, it was also a pioneer in early color production as NBC (at the time owned by TV maker RCA) used the show in part to sell color television sets in the 1950s.

from Wikipedia
Remember this – here's a show from 1947 from YouTube!
Click on the Wikipedia link for the history of the Howdy Doody Show. It's most interesting. Also, we share a few photos from the show (also from Wikipedia ). Do you remember these characters? Did you have a favorite?
The other items in the top photo, available at Bahoukas Antique Mall in Havre de Grace include, a 1950s Howdy Doody puppet, on the left is a 1960s cloth hand puppet with a plastic clown face, goat and fox "push puppets", a 1970s lady hand puppet and int the front right is a plastic frog hand puppet from the 1970s.
BRIEF HISTORY OF PUSH PUPPETS…
Take a peek at the Pomsie site … you'll even see a Howdy Doody push puppet!