Precursor to today's CDs and DVDs…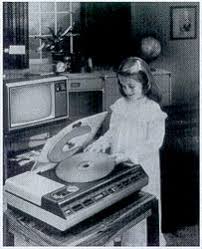 Early optical Laserdisc technology was invented by David Paul Gregg in 1958. By the time Gregg had patented his transparent videodisc system in 1961 and again in 1969 he decided to sell the patents to electronics manufacturer Philips. Philips had already been working on a reflective videodisc system at the time and gaining ownership of Gregg's invention helped them push technology forward. Philips' main goal with the Laserdisc was to sell feature films on them to consumers, so they teamed up with MCA, an entertainment company that owned the rights to the largest catalog of films at the time, to bring the Laserdisc technology to market. Collaboratively, Philips and MCA demonstrated the technology in 1972 and made it available for consumers on December 15, 1978. Philips manufactured the hardware players and MCA made the discs. The format went by many names including DiscoVision, but most referred to it as Laserdisc.
from CultureandCommunication.org

A little more of the history…
DVA traces its beginnings to 1965 with the formation of Gauss Electrophysics, a company started by David Paul Gregg to pursue the storage of video information on optical disc media. At the time, video information was stored on large reels of large-width magnetic tape. Magnetic tape and the equipment used to read and record magnetic tape was expensive at that time, while VHS and Betamax tape systems were still years away from being created.

During the time that David Paul Gregg formed Gauss Electrophysics, MCA (the movie company) was interested in finding a suitable storage medium to mass market MCA's large movie library to consumers to allow people to watch MCA's movies in their homes. MCA learned about the work being performed at Gauss Electrophysics and purchased the company in 1968.

from Discovision.com
Enjoy a news review:
Japan – Anime – Games
The Laserdisc format was more popular in Japan than it was in North America because it was a big force in the anime market. Collectors of anime content helped drive the sales of the format in Japan.

The instant-seeking functionality of Laserdiscs allowed developers to create interactive video games for LD players. The most popular LD game was Dragon's Lair and it used pre-recorded animated scenes to tell a story. A user would use a remote or joystick to command the story to move forward and make decision for the on-screen characters. Gameplay was similar to current RPGs.

Although Laserdisc is a dead format today, it was a major stepping stone for the industry to reach modern technologies such as the CD, DVD, and MiniDisc. Many of David Paul Gregg's early patents were licensed by companies to create these formats we know today.

from CultureandCommunication.org
JAWS – The first LaserDisc title marketed in North America was the MCA DiscoVision release of Jaws on December 15, 1978. The last title released in North America was Paramount's Bringing Out the Dead on October 3, 2000.

from LaserDisc – Wikipedia
Stop in and see the player and selection of laserdisc movies we have at Bahoukas! Yep, we'll be watchin' for ya!