or Black Americana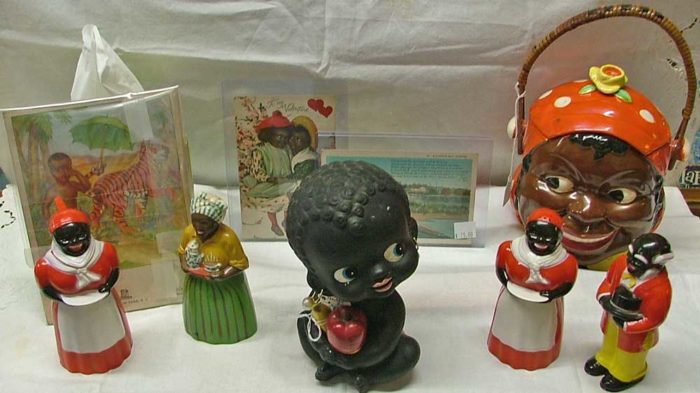 The above photo is an example of some of the vintage collectibles of Black Americana available in our shop. In front, it includes a syrup and shaker set, bobble-head, and salt & pepper shakers. In back are Little Black Sambo books, postcards, and a biscuit jar. We have a variety of other pieces.
Over the years we've had a number of collectors inquire about our various pieces. We believe that, while offensive to some, they are important in remembering and understanding our history. Only then can we learn and grow beyond those times. Below is one of several articles regarding this very issue of why people collect Black Memorabilia. This one is from PBS.
In response to this fascinating rhetorical question — "[Since] some items are disturbing, offensive and hard to believe, [if you collect and display them] are you creating these images yourself?" — her pamphlet answers: "No, definitely not," since the store "contains astounding mementos reflecting true lives of people of African descent," including all that African Americans have suffered through visual media, "depictions [that] are a testimony of life in the past," including "the 'good, bad, and ugly.' " And in response to whether "these politically incorrect depictions" are, in fact, "teaching racism," the pamphlet answers that "displaying memorabilia as part of a home, no matter how painful it may seem, is ensuring that 'each one teach one' and that history must not repeat itself." Our children, it continues, "must know where we have been to know where we are going." In other words, the most important function of displaying and collecting this stuff is a didactic one: critique. And there is a lot here to critique. from PBS article by Henry Louis Gates, Jr. The quote is in from an African-American woman, Gail Deculus-Johnson, who owned Sable Images Shop in Los Angeles.
Or put another way, this quote is from a blog post by Pamela Wiggins in The Spruce Crafts page from 11/18/2017:
Others have a completely opposite reaction. They want to own all types of Black Americana because those items were a reflection of their cultural heritage. A collection reflecting both difficulties and triumphs embrace important aspects of lineage and interest in our nation's history. It's reported that Oprah Winfrey is among the celebrity collectors interested in black memorabilia, so other collectors are in good company.

Collecting takes a different turn in these terms. It's not just a matter of fun, frivolity, and amassing things to fill a home. It becomes a personal endeavor to make peace with the past and ensure a prosperous future free of racial barriers.
If you collect Black Memorabilia, we welcome you to come and browse our collection. Yep, we'll be watchin' for ya.