SNOW WHITE and the SEVEN DWARFS
celebrate their 80th Anniversary!
If you've met George at Bahoukas Antique Mall, you already know that he loves Cinderella, PEZ collectibles, and so much more. He's a big kid and enjoys sharing what he loves. Yep, that's one of the big reasons for BAHOUKAS!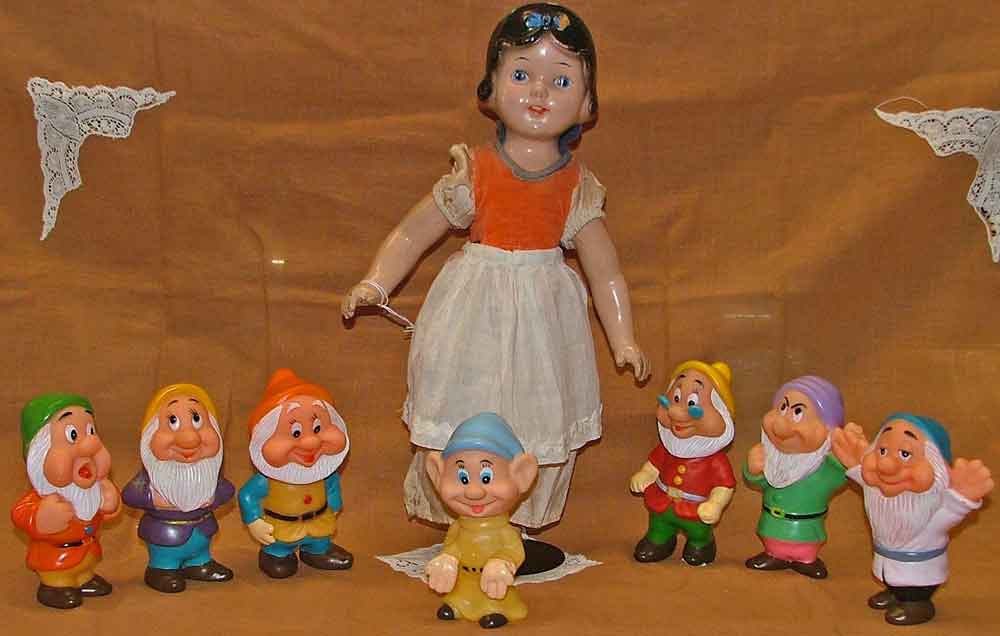 In the photo above, we share a few of our Snow White collectibles: including l to r: Sneezy, Bashful, Happy Dopey, Doc, Grumpy and Sleepy. These are 5″ tall, made of pvc from the 1970s, (c)Walt Disney Production! The Snow White doll is a 1940s composition doll by Knickerbocker.
Bahoukas also has sheet music, an original book from the 30s, a Dopey Bank from the 60s – ceramic – 1937, a Dopey Lamp about 7″ tall, and a Snow White PEZ Dispenser!
Disney joined SAKS Fifth Avenue in NYC to unveil their holiday windows celebrating the 80th Anniversary of Snow White and the Seven Dwarfs!
Just in case you visit New York City for the Holidays, don't forget to check out the beautiful holiday windows at SAKS Fifth Avenue Store. Created to celebrate 80 years of Snow White and our favorite little guys!
Stop in at Bahoukas soon. We can help you find that unique gift you've been searching for. Hurry… the count down is on. We'll be watchin' for ya!