We Know Them As Door Stops
Those heavy, cast iron, painted door stops that you use to hold a door open. With cooler days approaching, turn off your air conditioners and open the door. Let one of these whimsical cast-iron door stops hold the door open for fresh, cool air to circulate through your home or office.
They can be whimsical or historical, but cast-iron doorstops were always functional before air conditioning and central heating. In 18th century England where they originated they were known as "door porters. They were made in America in the early 19th century. Historically, President Andrew Jackson is said to have had figural frog doorstops with the slogan "I croak for the Jackson wagon, " used during his campaign. _from The Antique Shoppe Florida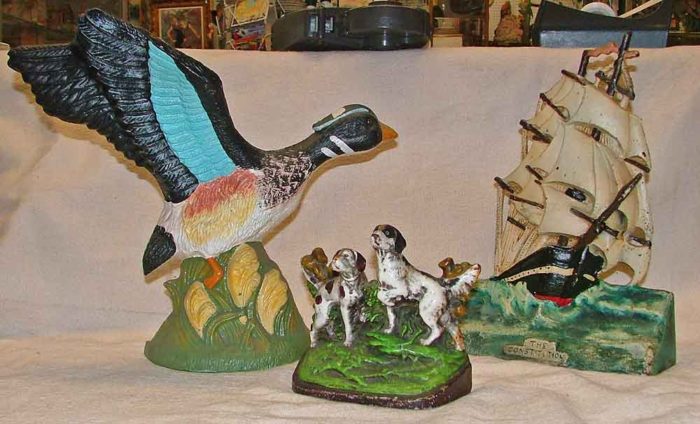 In the above photo, the duck is a reproduction. The dogs and the ship "The Constitution" are originals.
After the Civil War when iron casting techniques became more refined doorstops became of a status symbol for the upper class and many subjects from animals to ships became popular. Whatever was trendy at the time was turned into a doorstop. During the 1850s when trading with Japan began figural doorstops were images of Buddha.  _from The Antique Shoppe Florida
Door stops first appeared in England in the late 1700s. Made of cast brass, they were used to help prop open the heavy English doors, allowing air to better circulate through homes. The earliest door stops had wooden handles so they could be easily moved. Handles disappeared in the 19th century; by then, cast iron had replaced brass. Most door stops you'll find today were likely made in America sometime between the turn of the last century and 1940. They hit their peak of popularity during the 1920s and '30s.   _from Yankee Magazine