A campaign button is a pin used during an election as political advertising for (or against) a candidate or political party, or to proclaim the issues that are part of the political platform. Political buttons date as far back as President George Washington. They have taken many forms as the technology to create an image and mass production has allowed. In the late 18th and first half of the 19th century they were sewn-on clothing buttons, whereas the modern forms typically have pins on the back and are therefore also called pin-back buttons.    ___Wikipedia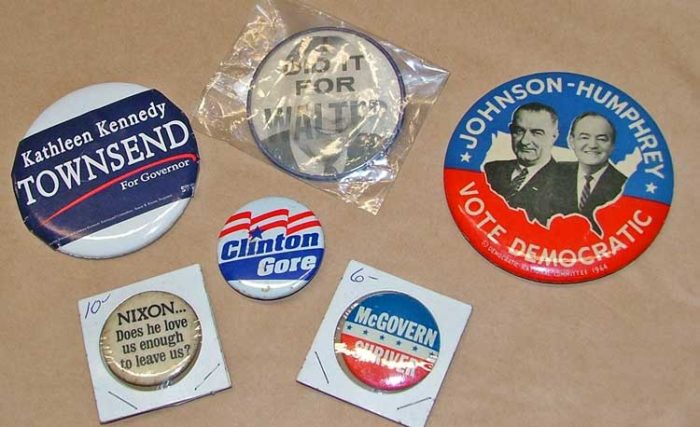 Above are a variety of campaign pins over the years. In this time of lots of political activity, be sure to save your campaign pins. It's a perfect time to start your own collection.
The first photographic image on pins dates to 1860. Abraham Lincoln and his various opponents used the tintype or ferrotype photo process.

The first mass production of metal buttons dates to the 1896 William McKinley campaign for president with "celluloid" buttons with one side of a metal disk covered with paper (printed with the message) and protected by a layer of clear plastic.

Since 1916, buttons have also been produced by lithographing the image directly onto the metal disk. A celluloid-type button is fastened to a garment using a pin on the back side of the button (in recently produced buttons, the pin generally fits into a safety-pin-style catch). A lithographed button may fasten with a pinback or with a metal tab which folds over a lapel or pocket.  ___Wikipedia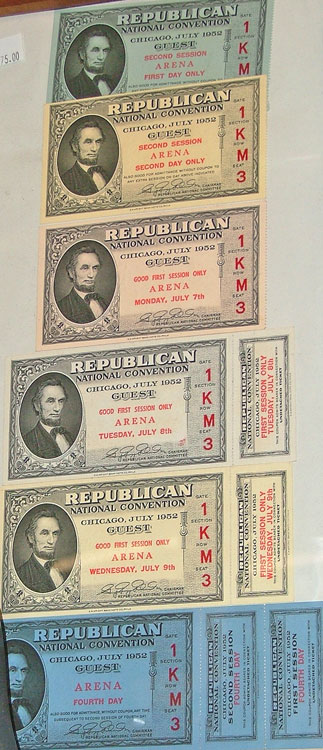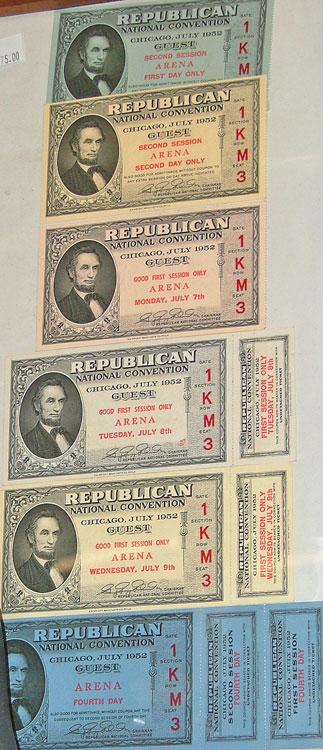 We also have these interesting 1952 National Republican Convention Tickets – Chicago.
The 1952 Republican National Convention was held at the International Amphitheatre in Chicago, Cook County, Illinois from July 7 to July 11, 1952, and nominated the popular general and war hero Dwight D. Eisenhower of Kansas, nicknamed "Ike," for president and the anti-communist crusading Senator from California, Richard M. Nixon, for vice president.

The Republican platform pledged to end the unpopular war in Korea, supported the development of nuclear weapons as a deterrence strategy, to fire all "the loafers, incompetents and unnecessary employees" at the State Department, condemned the Roosevelt and Truman administrations' economic policies, supported retention of the Taft-Hartley Act, opposed "discrimination against race, religion or national origin", supported "Federal action toward the elimination of lynching", and pledged to bring an end to communist subversion in the United States.

The 1952 convention was the first to be televised nationwide!
So as you consider upcoming elections, you just might want to consider starting your collection.