Look at this assortment of 1970s AFX Aurora Slot Cars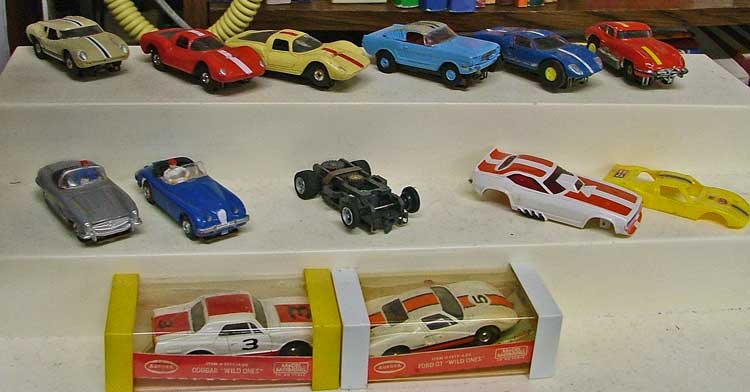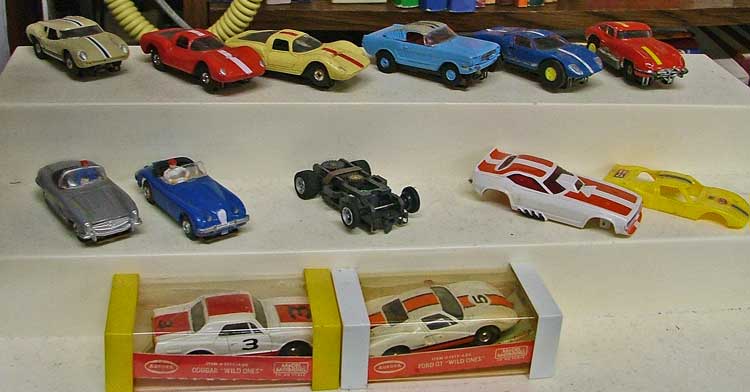 The Aurora Plastics Corporation introduced the A/FX (Aurora Factory Experimentals, later simply "AFX") line of slot cars, slot car track sets, and related accessories in 1971. The AFX brand continued production until the company was forced into receivership in 1983.[1]Aurora designed the AFX cars with interchangeable car body shells usually compatible with each chassis they released during these years. The original 1971 A/FX chassis utilized an updated version of the existing pancake motor design of Aurora's "Thunderjet 500" line, popular in the 1960s.[2] Aurora then released a longer version of the A/FX chassis in 1973, known as the "Specialty" chassis, which incorporated a longer wheelbase and gearplate (and often a more powerful armature) with bodies unique to that chassis. The car bodies designed to fit the shorter original chassis featured a clever snap-on design while the bodies for the Specialty chassis were affixed with a small screw. In late 1974, Aurora redesigned both the original and Specialty chassis and exposed the bottom of the motor magnets. The exposed magnets were attracted to the metal rails in the track during racing, creating downforce to help hold the car on the track while cornering. AFX "Magna-Traction" cars remained popular from their release in 1974 throughout 1983, even after faster chassis designs were introduced in house and by Tyco. from Wikipedia
How popular were slot cars in America?
Here's a quote from Rob Lammle in his article, Little Engines That Could: A Brief History of Slot Cars, published on MentalFloss.com in 2011:
Then in 1960, the British company Playcraft Model Motoring had a slot car display at a London toy show. Representatives from Aurora, an American company that specialized in scale model kits, snatched up the American marketing rights for Playcraft's slots. Within five years, Aurora had sold 25 million slot cars to eager kids, becoming the most successful line of slot cars in history.
Stop by the store and take a peek at these very collectible slot cars. Yep, we're here (decorating for the holidays) and we'll be watchin' for ya!