Maybe – You'll have to ask a numismatic!

In the photo above (left to right): 1923 Peace Dollar, 1971 Eisenhower Dollar, 1915-S Barber half-dollar, 1964 Kennedy half-dollar, 1929-D Mercury dime, 1835 large cent, and 1861 Indian Head penny.
If you're a coin collector, ie numismatic, the right nickel could be worth in the $100,000 range. Of course, you'll probably not find one in your pocket! Click here to read the story of 15 of the most valuable nickels. One was actually sold for over $3 million! Alrighty now!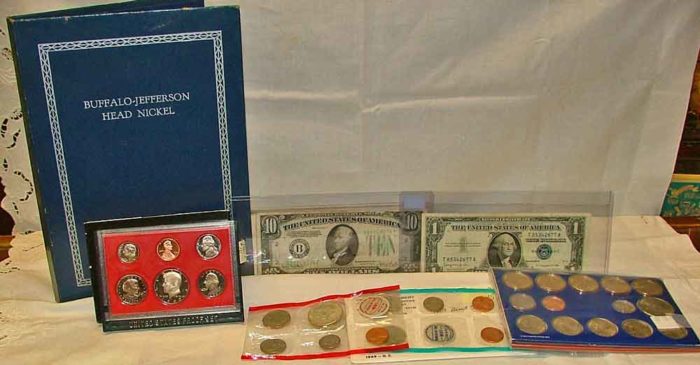 In this photo, we have a Collector Book for Buffalo Head Nickles (use these albums to keep your coins). There is also a 1934 – $10 silver certificate and a 1957 – $1 silver certificate. In front on the left is a 1980 Proof Set, then 1 1969 Mint Set and a 2008-D Uncirculated Coin Set.
Want to learn the difference between Proof sets, Mint Sets, and Uncirculated Sets? Click here for a great site for beginner collectors.
Does that help explain the intrigue of coin collecting? Maybe the following article will help if you're thinking about it and haven't started yet. It's from U.S. Mint website:
Why Collect Coins?
Coins in your pocket, coins at the store, coins under couch cushions, there's always more! It seems like coins are everywhere. Why in the world would anyone collect them?
There are plenty of reasons to collect coins! Here are some of them:
Coins can be souvenirs—both of the event and of how you got the coins.
Coins come in many designs and metals.
The way they're made has changed over the years.
They're often just plain beautiful to look at.
Whether you have a lot of money to spend on coin collecting or none at all, it's an interesting hobby for everyone. Here are some other reasons to collect coins:
To learn about history.
To learn about other countries and cultures.
To enjoy the way coins capture moments of history, time, and people's lives.
Because of an interest in coin design themes such as art, science, or animals.
For the joy of learning about the coins themselves.
To display and share with others.
For the challenge of completing a collection.
To enjoy belonging to a coin club or meeting fellow collectors from around the world.
For the excitement of finding rare coins in your pockets!
Numismatics is the study and collecting of things that are used as money, including coins, tokens, paper bills, and medals. A person who collects coins is called a numismatist.
Interested in collecting coins or want to meet your fellow numismatists? Visit the American Numismatic Association website to learn more.
When you're ready to get started, stop by and visit. We'll help. And yes, we'll be watchin' for ya!